Redemption is an integral part of a traditional Russian wedding. The groom with his matchmakers (usually the matchmaker acts as the leader of the wedding procession from the groom's side) arrives at the bride's house, where, after passing tests prepared by the bridesmaids, he finally gets the right to take the bride to the registry office.
Each decent bride meets her betrothed not with empty hands, but behind a generously laid table. Here's how to lay and decorate the table for the bride, and will be discussed in our article.
First of all, you need to take care of the decorative elements of table decoration: a festive tablecloth, beautiful napkins to match the tablecloth, beautiful tableware, originally decorated glasses for young people, flowers. Take the organization of the table seriously, as it will be seen not only by the guests, but also by the camera operator, who is shooting your wedding video. Agree, then watch the video about your wedding and see in the frame an untidy rumpled tablecloth on the table, plates from different sets, mugs or glasses instead of glasses, will not be entirely pleasant.

If the table is standing by the window, then you can decorate the window openings with balls of white and pink. Do not forget to place at least two chairs (the bride should already be sitting on one and the groom will sit on the other). Chairs should also be the same. If they have already lost their appearance , make covers on them, or simply cover them with a light cloth to match the tablecloth and tie bows of ribbon around the back.
What to prepare for the bride price?
Many mothers of brides break their heads over the question: what to put on the table when buying a bride, so that it is both beautiful and tasty, and, as they say in the south, "rich". Dear mothers and future brides, remember: there are no first courses, hot meat snacks, salads to prepare for bride buying. Cold appetizers should be on the table, because the groom did not come for lunch and there is still a wedding banquet in the restaurant.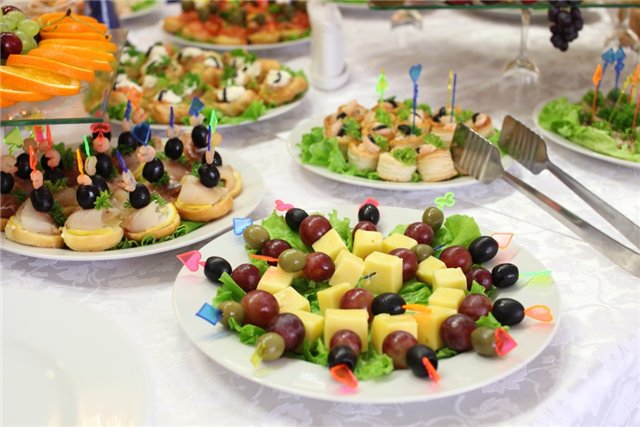 Prepare:
sandwiches with red caviar; small in size;
cheese cut (put several types of cheese);
cold cuts (several types of sausage, boiled pork);
vegetable cutting (tomatoes cucumbers, bell pepper );
canapés of cheese and grapes, of cheese, ham and black bread;
tartlets with various fillings (with chicken and pickled mushrooms, with shrimps, with red fish);
a fruit plate of whole fruits and sliced ​​(cherries, cherries, tangerines - as a whole, and oranges, apples, bananas - sliced);
for dessert: chocolates (if you buy in a box, then it is better to lay them on a plate; if you stopped on ordinary chocolate, then prefer chocolates in a beautiful wrapper), small cakes.
Sandwiches can be made in the form of hearts. For canapes buy special skewers, do not use toothpicks - it will not look aesthetically pleasing.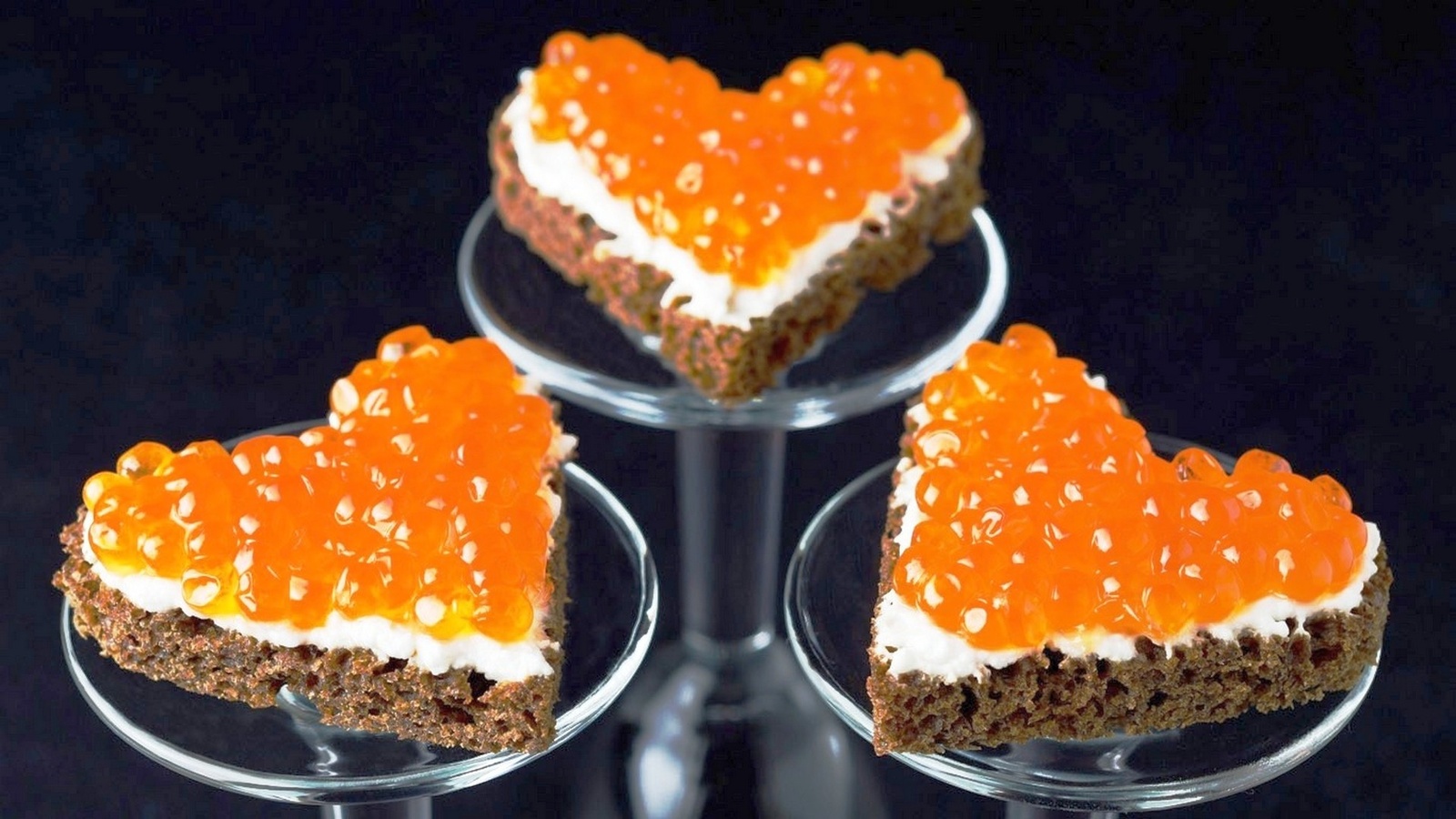 The main rule to follow to cover well buffet table to buy a bride, it is - treats should not be fatty, spicy, salty. Light snacks that can be eaten neatly without smearing wedding dresses. There will be no time to wash the patty from the patty. Keep this in mind and make a menu on the table for the bride price in advance.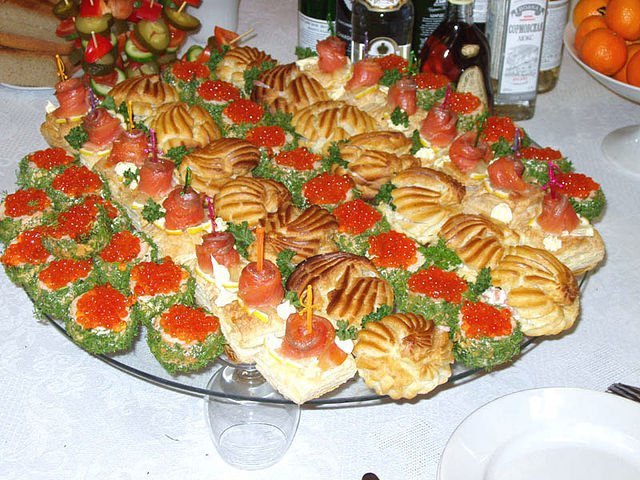 You can put juices (apple, orange, multifruit), mineral water without gas, and alcohol: champagne, wine (preferably white, as red wine can leave stains on clothes and an ugly dark plaque on teeth).
Take care of the decorations on a bottle of champagne or wine, from which the bride and groom will fill their glasses. You can make such a decoration with your own hands, and you can search for ready-made options in wedding salons.
Print page
Leave your comment
Bride price is an integral part of the wedding, which is a kind of prelude to the main celebration. The groom is having fun contests and tasks to get his bride. Of course, this event ends with a small buffet.
Buffet at the bride price
We need such a buffet in the first place so that all those present at the buyout could have a little snack and rest. The parents and bridesmaids will be able to cover and decorate a stand-up table for bride price purchase: there is nothing difficult in this. On the table should be two elements - drinks and snacks.
What to choose drinks
For such an event is better to choose light alcoholic beverages For example, champagne or wine. Moreover, guests will drink purely symbolically - small toasts and wishes. To quench thirst must be present mineral water either juice. And you should not buy drinks in packs: just a few bottles will be enough.
How to choose snacks
To choose snacks, you need to follow two simple rules: they should not be too high in calories and fresh, and you can comfortably take them with your hands or with a fork.
A sample list of snacks might look like this:
Fruits whole (cherries, tangerines) or sliced ​​(apples, oranges),
Vegetable cuts (cucumbers and tomatoes),
Canapes on skewers (for example, cheese with olives or ham with cucumbers),
Candies,
Meat or cheese sliced,
Tartlets stuffed with smoked chicken and cucumbers,
Small sandwiches with caviar.
What should not be included in the menu table for the bride price:
Strong alcoholic beverages (vodka, whiskey, tequila, brandy) will be absolutely inappropriate in such a situation, otherwise guests may simply not get to the main banquet.
Hearty dishes (hot, soups, and so on) are not needed, if only because after the ransom, guests still do not have time to get hungry, because this is only the very beginning of the wedding celebration.
Original table decoration
It must be remembered that all wedding events will be captured in photographs, so every detail should be provided in the design of the table for bride price:
Dishes should be aesthetic and beautiful, because disposable dishes will look very sad and can completely spoil the whole look of the table. For guests you can put a transparent glass glasses, but the glasses of the bride and groom should be different from the rest. The easiest way is to decorate them with ribbons, and for those who wish, there is a wide selection of special wine glasses for newlyweds in stores.
Fruits will look very nice in high transparent vases or in multi-tiered dishes.
It is better to buy sweets in a beautiful wrapper, for example, in a multi-colored foil, and put it out of the box on a separate dish.
For canapés, instead of ordinary toothpicks, it is better to buy plastic colored skewers.
The table can be covered with a usual white cloth, but at the same time use beautiful napkins.
Bottles can also be arranged in the form of the bride and groom. Such "outfits" can be bought in a store or made from paper or small pieces tissue. A cork is better to decorate with silver and gold foil.
The snacks themselves should look very beautiful, so sandwiches with sprats on a huge slice of bread will not add to the table refinement. Everything should be small and neat, and if you have time, you can make the original sandwiches in the form of hearts.
Flowers - the same attribute of any wedding. Therefore, they can be used in decorating the table. For this fit small vases in which small bouquets of two or three flowers are placed. Choose flowers depending on the style of the wedding couple. But the win-win is red roses, which symbolize love and passion.
Redemption is a fun, but still, a long and slightly tedious event for the groom and his company, as well as for the bride and her family, so at that moment when the groom and his friends are excited and a little tired of the contests, finally invade the room of the bride - the time comes buffet table.
Serving a buffet after redemption is mandatory on the wedding day. Usually the table on the buffet table is laid in the very room where the bride was hidden from the groom during the ransom so that, without losing a minute, proceed to congratulate the bride and groom, as well as the snacks and drinks on the table. By the way, the buffet should be organized in the most spacious room of the apartment or house for the convenience of moving guests.
Buffet duration
It should be noted that the reception, as well as the ransom, is usually allocated a little time, because there is a solemn registration in the registry office, so snacks should be light, fast, but at the same time quite nourishing and tasty. Do not neglect the external beauty of the food and its brightness - because the buffet will certainly be captured in the photos. Therefore, the bride, her parents and girlfriends should be smart and not only organize a cheerful and original redemption, but also work on organizing and preparing the perfect table!
Main dishes at the buffet table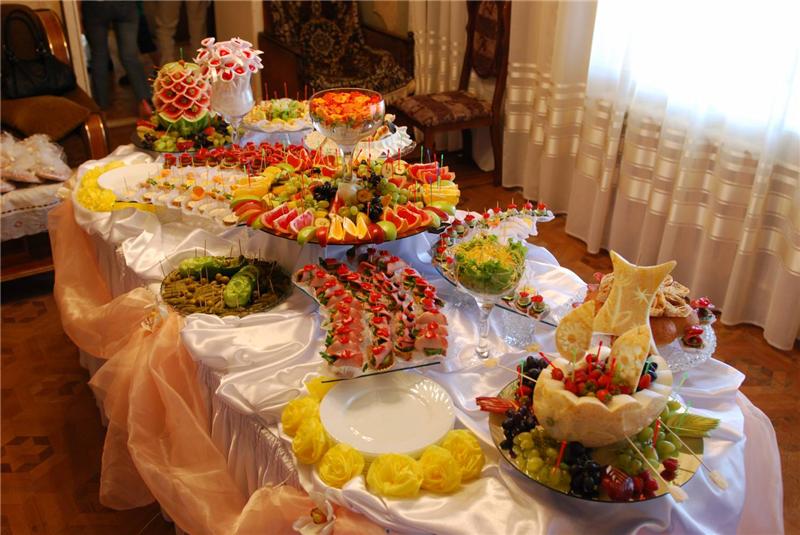 Organizing a table on a buffet table, you should cook it quick snacks but at the same time original and beautifully designed. In addition, snacks on the table should be sufficiently nutritious and high-calorie, as well as the bride price, and the wedding itself are long-term events. Also, after the reception, there is still a lot of time to be spent at the registry office, for a walk and a photo session.
An integral part to give preference to good champagne and wine. Try to pick up drinks in beautiful original bottles. You should not put such strong drinks as cognac, vodka or whiskey on the table, since some of the guests then simply cannot get to the evening banquet, and they are unlikely to remember the bride ransom with a buffet! Also mandatory will be the presence on the table of soft drinks - juices and mineral water.
From the appetizer will be ideal for a variety of sandwiches and canapes. The basis for sandwiches can be the most diverse - red fish, caviar, cheese, greens. In addition to the wonderful taste, these snacks will also be a spectacular decoration. Do not forget about cutting - various sausages, cold cuts , are very popular and loved by many, at the same time very fast in use and high in calories.
Salads in separate bowls should not be put on the table, but cooking Olivier, crab and other salads and filling them with tartlets will be an original decision! After all, it is very tasty and satisfying!
Hot dishes should not be served, since, most likely, they will remain untouched, because to use them in an atmosphere of turmoil that is typical after redemption will be completely uncomfortable.
A necessary element is candy. It is best to bring a couple of open boxes with good chocolates to the buffet without putting them on the vases, and pick up the remaining candies in the boxes for a walk and to the registry office.
Decoration buffet table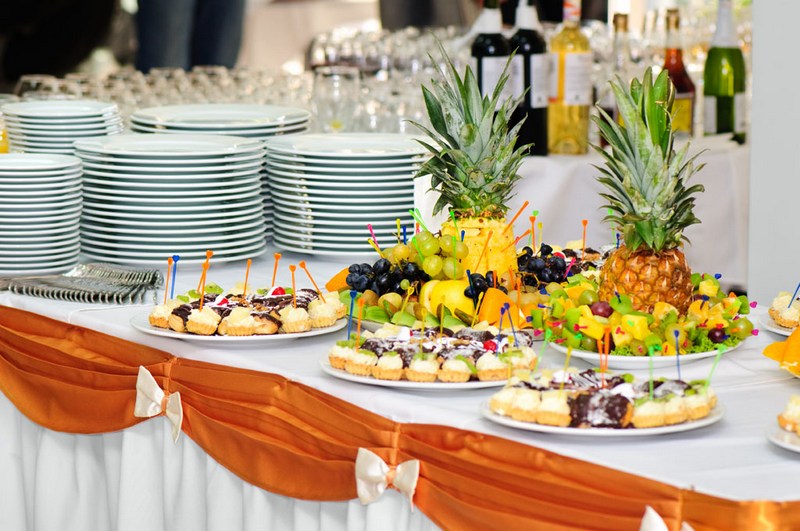 It is also worth decorating the buffet table with fruit in baskets or in beautiful plates or vases. Ideal grapes, tangerines, plums, apricots, peaches and other fruits that do not require cutting. If there is still a desire to serve a buffet and sliced ​​fruit, then give preference to oranges, apples and pears.
Do not forget to put on the stand-up table original napkins and beautiful wine glasses! Of the devices are only necessary plugs.
For decoration, the use of fresh flowers is recommended - a bouquet of gerberas, roses or lilies would be an excellent option! The remaining fruits and snacks from the buffet should be taken with you, as the wedding, in addition to registration, involves a long walk and a photo session, where guests, of course, have time to get hungry.
The buffet after the bride price is a great start for such a significant event as a wedding! Competently organized buffet , with the absence of strong alcoholic beverages, will allow all guests, without exception, to keep bright and memorable moments from the whole wedding day! And light, tasty and at the same time hearty snacks will not leave anyone hungry until the evening banquet!
Considering the wedding photos, among which, of course, will be captured bride redemption and a buffet table, you will notice that the design holiday table It is not the last value on the beauty of the resulting photos.
About how to organize an active tell on.
What to prepare for the bride price?
What to prepare for the bride price?